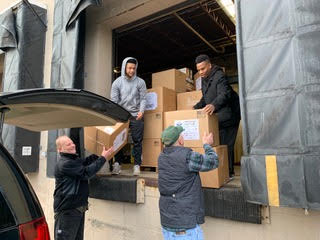 NEEDS volunteers are always eager to join forces with other organizations in order to serve our community. A wonderful recent example is NEEDS' participation in Fill the Truck – an annual event sponsored by Frame USA that benefits more than half a dozen local charities.

This year, seven semi-trucks parked at shopping centers across the Cincinnati area to welcome donations for those in need. Each truck was soon filled with a variety of essential products, from food and toiletries to new blankets and warm winter clothing. Frame USA workers then organized and distributed the donations to each partner charity. NEEDS was especially grateful to receive canned food to stock the pantry shelves, as well as personal care items like paper towels, toilet paper, and feminine hygiene products. Since toiletries are not covered by SNAP, they are often difficult for NEEDS clients to afford – and donations of these items are greatly appreciated. Thanks to the generosity of Fill the Truck contributors, NEEDS received so many donations that our volunteers were able to share with the Shelterhouse, an organization dedicated to supporting the homeless in Cincinnati.

It is so exciting for NEEDS to collaborate with other groups in helping our community. Thank you to all who participated!