Thank You to New Partners!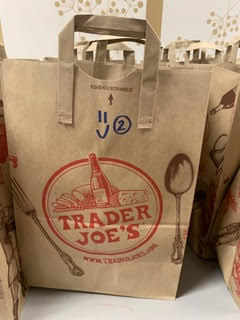 Serving dozens of clients each week, the NEEDS pantry always relies on support from individuals and companies who care about their community. We are happy to highlight three partners who are helping us to continue serving our clients under extraordinary circumstances.

Trader Joe's (https://locations.traderjoes.com/oh/cincinnati/669/): To ensure safety, the NEEDS pantry is now operating as a drive-through service. Volunteers pre-pack a variety of food and dry goods that clients can pick up and take home. Our local Trader Joe's has donated the paper bags that volunteers use for packing groceries. Thank you to Trader Joe's for helping to keep the pantry running smoothly!

JB Meats (36 Clinton Springs Ave, Cincinnati OH 45217): Even those of us who aren't in financial straits may struggle to buy what we need during the COVID-19 crisis. It's especially challenging for the NEEDS pantry to stock fresh food for our clients – so we are extremely grateful to JB Meats for providing delivery service! JB Meats is flexible and responsive to our changing needs, and they deliver regularly at a reasonable price. Thank you to JB Meats for being a strong and reliable partner!

Pet Supplies Plus (https://www.petsuppliesplus.com/Store/OH/Blue-Ash/Blue-Ash/218, https://www.petsuppliesplus.com/Store/OH/Cincinnati/Symmes/234): As unemployment rates skyrocket, many people are struggling to feed their families – not to mention their pets. Luckily, Pet Supplies Plus is here to help. In March, the Blue Ash store made NEEDS their charity of the month, donating enough pet food, treats, and toys to fill several SUVs. Meanwhile, the Harper's Point store has invited NEEDS to stop by every two weeks to pick up whatever they have available to donate to our clients – and again, SUVs have been filled with donated pet supplies. Thank you to Pet Supplies Plus for meeting an often-overlooked need!