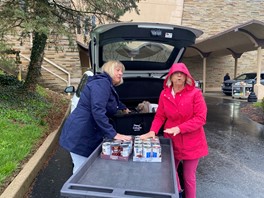 Pantry coordinator Maureen shared this story about local realtors helping to stock our neighbors' homes with much-needed food:

"Three well-heeled, professional women pulled into our NEEDS drive-through recently – all members of a Comey & Shepherd realtors branch. Cindy Flynn, Sue Miller, and Sue Wahl brought their office's carload of donations personally.

The 10-pound bags of rice they brought alone were amazing! They'll be perfect for the larger families of six to ten that we serve. And all of the other items will go far in stocking our shelves for the long summer months ahead. With schools closed and members of local churches and companies on vacations, few people donate to us during the warmer months."

The best part? Comey & Shepherd will be holding another office food drive later this summer – and their goal is to double what they brought in this time!